Our choir's appearance, as well as its sound, is important in presenting a professional and artistic performance. Members must wear the complete and correct uniform for performances and adhere to performance appearance policy.
Performance Appearance Policy
The choir uniform should fit properly and be clean, pressed, and in good repair.
Hair should be groomed away from the face.  Barrettes, narrow headbands, and elastic bands that match hair color may be used. However, please refrain from using colorful bows, ribbons, barrettes, or noticeable ornamentation.
Make-up and jewelry should not be noticeable. Stud earrings will be allowed (no more than two per ear).
Our goal is to look unified and professional. Final appearance decisions are at the discretion of the Directors and Administrative Director.
Concert Dress
CIYC will purchase logo t-shirts for all singers who need one after registration is complete.
 Music Makers and Concert Choir singers' uniforms for concerts will be the CIYC logo t-shirts and black long bottoms provided by each family (can be pants, leggings, or skirt/shorts with leggings) and black shoes.
Chamber Choir and Youth Chorale's uniform will be an all black outfit of each singer's choosing.  Short or long sleeved tops are acceptable as long as they are relatively modest.  Bottoms should be long (skirts above the ankle need black tights/leggings), pants are appropriate, and shoes must be black.  Former Chamber Choir dresses are acceptable but not required.
Casual Uniforms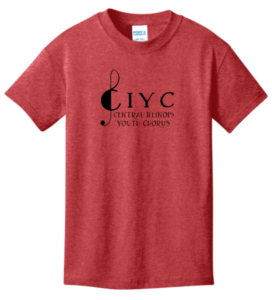 Each singer who registers for CIYC will be given a red CIYC logo t-shirt. Singers may be asked to wear these CIYC logo t-shirts for virtual performances, select rehearsals, and whenever else they would like to just for fun.
You will select a size for your singer's shirt as part of their registration form.  We find the shirts run a little bit small, so please plan accordingly.
If you would like to help us defray the cost of the shirts, you can submit a donation of $10 to cover the cost of your child's shirt: https://www.ciycsings.org/make-a-payment/
Masks
A well-fitting mask is crucial to our ensemble's safety this season. Singers must use a mask that meets the guidelines listed below. Please read guidelines below and select a mask option for your singer.  For the safety of our entire ensemble, do NOT send your singer with an ill-fitting mask.
Mask guidelines:
Singer's masks must FULLY cover mouth and hose, fit snugly against the sides of the face without gaps, and extend past the chin even while singing.

Reusable face masks should be washed at home.

Singers should wear masks they can take on and off themselves.

Consider adding a mask spacer or bridge to your singers' mask if it does not fit snugly.

All singers and staff members are required to wear masks at all in-person rehearsals. Singers without a mask will not be allowed to enter rehearsal.
Vocal Mask provided by CIYC in mid-September
CIYC will place a group order for Vocal Perfomance Masks for singers who would like one, but they will not be received by the start of the season. Singers are not required to wear the Vocal Performance mask; they should wear the mask that fits them best. 
TMF Vocal Masks are rated the safest by Colorado State University's mask aerosol containment study. They allow for full facial and jaw movement without compromising aerosol containment but are not medical grade. They are machine washable, air drying recommended. Elastic ear loops. Families who would like to defray the cost of the mask can add $10 to their tuition payment.
Product details can be found here:
Adult: https://stores.inksoft.com/nats/shop/product-detail/1010837
Youth: https://stores.inksoft.com/nats/shop/product-detail/1010838
Other mask options:
Some families have noticed that adding a filter to a mask with a slot can give the mask more rigidity and structure, making it easier for a singer to take breath in without the mask material pulling toward the singer's mouth.
A disposable mask that some families like to use while singing, is a Korean mask called a KF94 that stands away from the singer's mouth a bit while staying relatively tight to the singer's face. This particular item is currently backordered, but similar products are available: Larger KF94 or Smaller KF94.